Horizontal Cutting Machine


GONG YOUNG's advanced technology power commences in the spirit of constant challenge toward the future and the master spirit to the backbone for quality guaranteed.

This is general basic model and available for multiple use.
For instance,
skiving Machine
and splitting foam sheet - showing high performance of skiving and foam sheet split. Our GY-1500,1700(Foam Sheet Splitter, Skiving machine) can be used to skive & cut all kinds of expanded rubber, Cork, PE,EVA foam products guarantying 1mm thickness tolerance. The Touch screen (Digital) lead automatic thickness control system provides very accurate and easy operation. The machine can be incorporated into a continuous production line. We recommend our model No. GY-1500, GY-1700 such as Skiving machine and the hardness will be acceptable by 90 Shore and thickness will be available by 1mm.
Available for hardness (20-90 shore) foam
Expanded rubber foam - CR EPEM. EVA. PU. PE. EPP, EPE PVC flexible foam, Cork, and sythetic rubber with similar properties
Same appliction with rubber foam

Electric & electronic industry, Pads for sound & vibration_proof


Auto industry, Gasket, shock absorption, sound-proof


Construction industry, sound-proof, vibration-proof, shock absorption, lags


Sports & leisure industry, shock absorption, lags


The others, diving suit, marine rescue suit, packing materials, mouse pads

Available Convoluter (profile foam)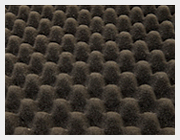 All Operations by PLC inverter and touch screen
Available cutting thickness : 1mm to 110mm
Available cutting width : 1400mm
Available for upper roller up to 80mm and lower roller up to 110mm and available for up & down
movement of 0.01mm each per a touch.
Rubber foams are provided continuously by the upper and lower rollers.
Quick and correct up&down movement of the upper & lower roller by a motor
While cutting foams, Grinder sharpen the knife continuously.
Always keep the best cutting position by automatic controller
Accurate and simple operation of touch screen
Allowed tolerance : +0.1mm